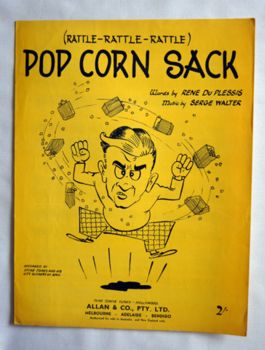 Pop Corn Sack
Description
Great cover featuring a temper tantrum being thrown by a grumpy man.
Printed in black ink on a bright yellow background there are small bags of pop corn circling his head and a cranky expression on his face.
There is very little wear on this item and no noteable marks.
Words by Rene Du Plessis, music by Serge Walter. Published by Tune Towne Tunes - Hollywood for Allen and Co Melbourne. Reference to Spike Jones and his City Slickers.