Simpson A. & Son - Eaglehawk

Aerated Water and Cordial Manufacturer from 1872 - 1924
As the area of Eaglehawk, near Bendigo, Victoria was gradually becoming a residential area during late 1860's it was evident that another cordial maker would establish a factory in opposition to William Bruce.
Advertisements have appeared that a Cordial Factory was established as early as 1853 by W. Simpson. However, it is doubtful if the area had been explored by that time. Walter Perrick Simpson had arrived in 1852 and was operating a store in the Eaglehawk area by September of 1859 and until 1868.
By 1872 Alexandra Simpson had established an Aerated Waters Factory in Napier Street at Eaglehawk. He admitted his son Arthur to the business during 1891, who became the manager after the death of Alexander Simpson in 1895 aged 78 years.
During 1907 Arthur Simpson added Federal Ale to his range of cordials, aerated waters, sauces and vinegars. He continued to operate the business until his death on the 15th of February in 1921 at the age of 58 years. Tenders were called for the lease of the factory in April of 1924. However it closed soon after.
Historical Dates
1852 Walter Perrick Simpson operated a store at Eaglehawk
1872 Alexandra Simpson established factory in Eaglehawk
1891 son Arthur admitted to business
1895 Alexandra died
1895 Arthur took over business
1921 Arthur Died
1924+ factory may have been leased
| | | | |
| --- | --- | --- | --- |
| Year | Branding | Type | Physical Attributes |
| 1895 | A. Simpson & Son, Eaglehawk tm | Lamont | Patent, aqua, soft drink, bottle |
| 1928 | A. Simpson & Son, Eaglehawk tm | Riley | Aqua or clear, glass, soft drink, bottle |

Lamont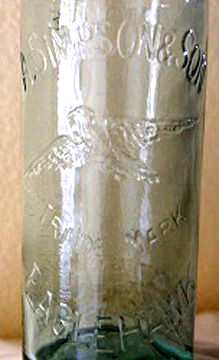 Eaglehawk trade mark