John Dixon O. T. Ltd. Prahran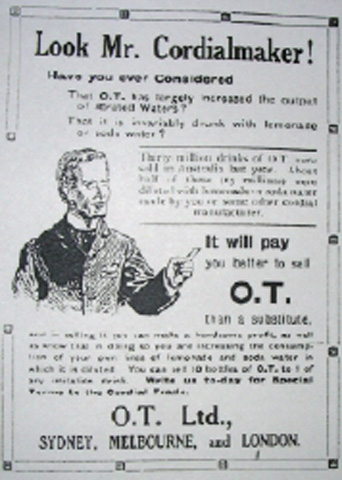 Prahran Ice & Aerated Water Co.
O.T. Ltd.
1898 - 1910
The Prahran Ice and Aerated Water Company was established in 1898, by Mr. John Dixon. The factory situated in Alfred Street, Prahran was fitted up with the most modern equipment for producing superior aerated waters, soda water, lemonades, ginger ale, sarsaparilla, tonic water, ginger beer and cordials of all flavours.
Within four years of operations (1898) the company had become well respected for the quality of its' products and the ability to delivery on summer days, a chilled beverage containing no chemicals, filtered water for all beverages and being free of contamination of lead or copper pipes. The factory filling machinery was by Heywood, Tyler & Co., and ran by a Coulson's gas engine of 8 horse power, the factory covered 50,000 square feet, with goods delivered by nine wagons. By 1906 the floor area had grown to 240,000 feet and included the manufacture of the famed O.T.
"Hot Chilli Punch", manufactured from chillies and fruit juices; that was the description of O.T., a winter and summer time drink, beverage with health benefits that could be blended with many mixes, whisky, brandy, beer, aerated waters and milk. The recipe for O.T. Punch came from one of the Mararajah of India. First introduced in 1905, within two years of manufacture there were very few hotels in the country that did not sell O.T. In this short time no less than 150,000 bottles had been despatched throughout Australasia. A Commonwealth Trade Mark application for O.T. was registered in 1907 by John Dixon & Co., High Street, Prahran, Victoria, for a non-alcoholic beverage, the device of a chilli, and the letters "O.T."
With the success of business comes prosperity and the reward of indulging in a little recreation, John Dixon was an ardent Motorist owning a 16 hp Talbot vehicle and in 1910 he covered the distance from Hobart to Launceston in just over four hours. A keen yacht man he purchased the "Sayonara" the then fastest yacht in Australian waters and hosted the Sayonara Cup for many years.
Historical Dates
1898 Prahran Ice and Aerated Water Company established
1907 O.T. Ltd. trade mark registered
| | | | |
| --- | --- | --- | --- |
| Year | Branding | Type | Physical Attributes |
| 1920 | O.T. Limited High Class Ginger Beer, Melbourne & London | Ginger Beer | 13 oz, tan top, corker, stoneware |
| 1950 | O.T. Ltd. Australia & London no trade mark | Soft Drink | 7 oz, Crown Seal, glass |
| 1925 | O.T. Ltd. Hygenic Bottle, Australia & London no trade mark | Soft Drink | 13 oz, Crown Seal, glass |
| 1910 | O.T. Ltd. J. Dixon, Prahran, Melbourne no trade mark | Cordial | 26oz, cordial square, glass |
| 1910 | O.T. Ltd., Australia & London | Cordial | 13 oz, Cordial bulb shaped glass bottle |
| 1950 | O.T. Ltd. large Chillie trade mark | Cordial | Gallon Cordial, glass |
| 1910 | O.T. Ltd. Chillie trade mark | Cordial | 13 oz, cordial sq, aqua, glass |
| 1910 | O.T. Ltd. Chillie trade mark | Cordial | 26 oz, cordial sq, aqua, glass |
| 1910 | O.T. Ltd. Chillie trade mark | Cordial | 26 oz, cordial sq, aqua, dark green, glass |

Cordial