Australian Dairy Collectables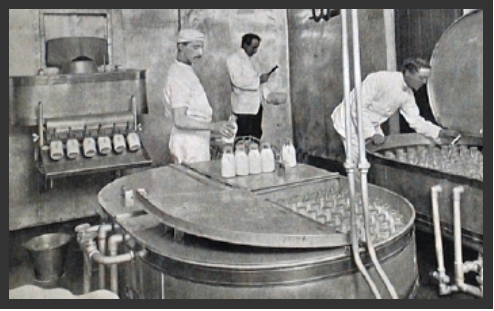 1880 to Today - Listing of Milk Bottles
The history of milk production in Australia goes back to day one of foundation. For the use of this page we will concentrate on the period 1880 - Today. A time when milk would arrive at the door step of most city and large town residential properties. In time we may enlighten the reader on some of those early days of production and through the period when it was decantered from Galvanized lidded steel drums. How many of you can remember the days of the horse drawn cart and the echoed clink of milk bottles in the early morning air? The home delivery for most of us ceased in the 1970's, and nowadays we go to the supermarket or corner store for our milk supply and buy it in cardboard cartons or plastic bottles.
Our page in history starts at a time when a lady by the title of Lady Talbot saw the need to provide good pure wholesome milk for young mothers to feed their babies. Her and several Melbourne businessmen established the Lady Talbot Milk Institute and Dairy back in 1909 in Victoria.
Soon after other individuals followed suit, and with the growth and demand for quantity and a quality product, Dairies sprung up in most Australian cities and suburbs. As with most needs and demands the old method was quick to go where the highest demand was - some smaller country towns or outer suburbs did not see the introduction of glass milk bottles until many years after their city cousins. Along with the packaged milk from your local Dairy now came a neatly wrapped pound of butter, cheese or other produce often in a wrapper printed with the Dairies brand upon it, so one would return there for future purchases. However the Dairy branding on a bottle had a double method, one would know where the milk was purchased and would return the branded bottle to the correct dairy allowing that Dairy to re-use the bottles hundreds of times.
Bottles would be lost and returned to incorrect Dairies or destroyed. The need for a bulk supply was partly solved in Melbourne when the Melbourne Bottle Recovery company ordered thousands of branded bottles from the glass works and leased these bottles out to individual dairies. This method was adopted in other cities and even in other industries.
Common asked questions about milk and dairies: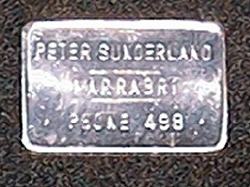 Question: Where does household milk come from ?
Answer: Milk comes from Cows.
Question: What is a Wad ?
Answer: A wad is the cardboard insert which fitted inside the neck of the old style milk bottle as a seal.
Question: Why did the manufacturers stop using glass bottles ?
Answer: To justify cost in production.
Question: What was the milk token ?
Answer:
Milk Bottles List
It is intended that the table below will become a listing of known branded Australian Dairy Bottles. That is a bottle being primarily made for containing Milk and Cream. We will hold the listing to glass embossed bottles and give reference to the base numbers and markings. Imagine the enormity of the list should we include branded milk cartons !
Key to Table Fields
| | |
| --- | --- |
| Base Mark | the glass works mould and number identification on the base of each bottle, these marks can be used to identify and date the bottles where [agm] appears signifies agm mark known as the stilts 1928 -1937 |
| Branding | text on the bottle (,)new line (.)end of embossing (r)reverse of bottle (be)bottom edge, full details & descriptions are listed on the Image link age |
| Branding Style | the method used to brand the bottle ; embossing, paper label or ceramic label |
| Top Closure | the type of closure used: cardboard wad, foil, cork, ceramic stopper |
| Proprietor | known owner of the Dairy a the time of this listed bottle |
| Predecessor - Successor | the previous owner or next owner of the Dairy, when available a link to that entry in the list |
| Town | the location of the Dairys operation |
| Known Sizes | a list of all known bottle contents sizes |
| Image | if available a link to the image in our web page |
Listing of known Milk Bottles
Base Mark
Branding
Branding Style
Top Closure
Proprietor
Predecessor
Successor
Town
Known Sizes
Image
4
Model, Dairy Pty Ltd, Kew
embossed
wad
-
-
Kew
4oz 8oz
1/2Pint
Pint
1/2Pint
Pint
quart
16
Kennedy & Sons, Rose Lea Dairy
embossed
wad
Kennedy
-
-
4oz
4oz
29
W. J. Ireland, Sunnyside Dairy Nursery Milk
embossed
wad
Ireland, W J
-
-
1/4Pint
1/2Pint
Pint
Pint
32
Associated Dairies, Malvern
embossed
wad
-
-
Malvern
Pint
Pint
33
Avon Valley Dairy, Hawthorn, Phone Haw 1494.
embossed
wad
-
-
Hawthorn
1/4Pint
1/2Pint
Pint
Pint
62
Lady Talbot Milk Institute (trade mark cross on horseshoe), Specially Supervised Nursery Milk. Caulfield Model Farm
embossed
wad
Talbot
-
Caulfield
1/2Pint
1/2Pint
178
C. Coughlin & Son, Malvern
embossed
wad
-
-
Malvern
1/2Pint
1/2Pint
295
Modern Dairy Ballarat
embossed
wad
-
-
Ballarat
1/2Pint
1/2Pint
390
H.J. McMenemy,Malvern
embossed
wad
McMenemy, H.J.
-
Malvern
Pint
Pint
477
(small text 241, 0)
P. J. Ducat & Sons, Shepparton, Airlie Dairy
embossed
wad
Ducat, P J
-
Shepparton
Pint
Pint
491
W.C. Christian, Mortlake
embossed
wad
Christian, WC
-
Mortlake
Pint
Pint
606
Ideal Dairy Ararat
embossed
wad
-
-
Ararat
Pint
Pint
G
Geelong Milk Distributors Association
embossed
foil
-
-
Geelong
Pint
Pint
ISM 330, [agm]
Modern Dairy, Ballarat
embossed
foil
-
-
Ballarat
1/2Pint
1/2Pint
ISM 528, 2,48,[agm]
P. J. Ducat Airlie Dairy
embossed/td>
foil
Ducat, P J
-
Shepparton
1/2Pint
1/2Pint
m,051,0
Milk Bottles Recovery Ltd
embossed
wad
MBR
-
Malvern
1/2Pint
Pint
Pint
m777 [agm]
A. B. Costello, Bowenfels
embossed
wad
Costello
-
Bowenfels
1/2Pint
1/2Pint
RM-15, 1, [agm]
Milawa Dairy
embossed
foil
Milawa Dairy
-
Milawa
Pint
Pint
1958
Amscol
embossed
foil
-
-
-
-
-
If you know of any other branded milk or cream bottles not listed in the table above please email an image and details to us.