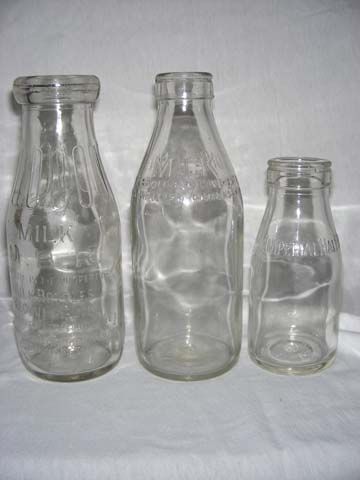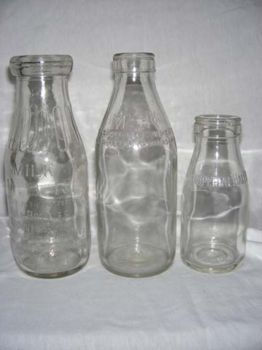 Milk Bottle
Description
Antique Bottles has for sale a selection of old Milk bottle , the bottles pictured here are from the left: MBR pre 1965 - note the wide mouth which took a cardboard cap commonly referred to as a 'wad' centre: post 1960 to 1970's - this bottle took a foil cap which wrapped around the top, right: a half pint bottle 1960-1970's. The price for one milk bottle is $20 each.
The price for a milk bottle is $20 each, if you are wishing to purchase any quantity please check with me as the postage will be less.
The milk bottle pictured are samples, please contact me to ask what milk bottles I have in stock, as these may vary in character slightly.
Branding
: The branding will vary as this is a bulk item listing
Front & Reverse Neck: One Imperial Pint
or : Milk, This bottle belongs to Milk Bottle Recovery Ltd, and cannot be used with out written permission.
Base: ISM 557, 9 04, 12 agm (1716, agm 1 21 1, m)(1716 agm 2 14 3, m)(4 agm, 2 10 m, f1828)
MBR
Front: Milk, M.B.R., This bottle is the property of, Milk Recovery Ltd,. 18 Market St Melbourne, It can only be used by written permission, and cannot be sold.
Base: 927, m, 0
Physical Attributes
: glass one pint milk bottle
Company
: Milk Bottle Recovery Ltd