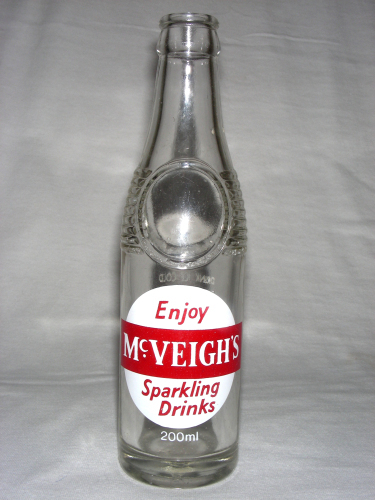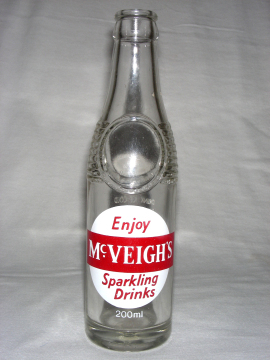 McVeigh Young 200ml
Type
: Aerated Water Crown Seal Ceramic Label
Description
A 200 ml crown seal drink bottle from McVeigh of Young.
With a red and white ceramic label.
Branding
: Branding may vary slightly on these bottles.
Front: Enjoy McVeigh's, Sparkling Drinks, 200 ml
Reverse: Drink Ice Cold, This bottle always remains, the property of, Thos. McVeigh Pty. Ltd.,
Young, N.S.W., Please return, Empty Bottle Promptly.
Base: agm, IS 1174, 5
Physical Attributes
: 200 ml, clear red and white ceramic label, crown seal bottle
Condition
: Damaged - Very Good -
Near Mint
- Mint - Pristine
Rarity
: Common -
Obtainable
- Hard to Find - Rare - Extremely Rare