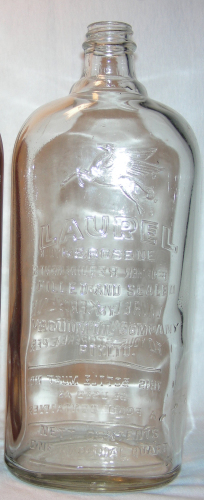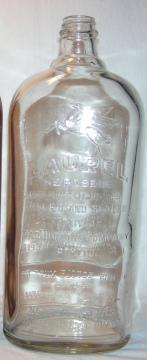 Laurel Vacuum Oil Co clear bottle
Description
The flying horse trade mark on a Laurel Vacuum Oil Co bottle from about 1950. One imperial quart kerosene Laurel Vacuum Oil Co.
This is the clear one only.
Branding
: Front: "Individual bottles markings may vary."
flying horse, Laurel, kerosene, filled and sealed, by Vacuum Oil Comapny, pty/ltd., nett contents, one imperial quart.
Back: When purchasing your, further requirements, of, Laurel Kerosene, return this bottle, to your storekeeper, (line)., this bottle must not, be used as, a food container.
Base: F 1305, 0, 910
[agm 1305 m]
Physical Attributes
: glass, clear, kerosene, quart, screw top, bottle
Condition
: Damaged - Very Good -
Near Mint
- Mint - Pristine
Rarity
:
Common
- Obtainable - Hard to Find - Rare - Extremely Rare