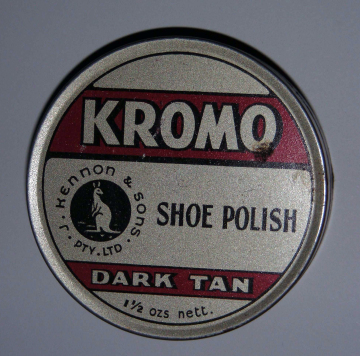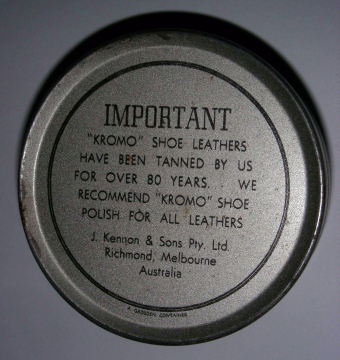 Kromo Shoe Polish
Description
Shoe Polish tin from J. Kennon & Sons. Pty. Ltd. of Richmond in Melbourne.
I have a few of these nugget tins in very good condition, there maybe some very slight spots of surface rust. Check the larger image to view condition. Size is 72 mm wide and 25 mm deep.
Branding
: Front: Kromo, J. Kennon & Sons Pty. Ltd. Kangaroo, Shoe Polish, Dark Tan, 1 1/2 ozs nett.
Base: Important, "Komo" Shoe Leathers, Have Been Tanned By Us, For Over 80 Years. We, Recommend "Kromo" Shoe, Polish For All Leathers. J. Kenon & Sons Pty. Ltd.,
Richmond, Melbourne, Australia, A. Gadsen Containers.
Physical Attributes
: tin red, black and silver
Condition
: Damaged -
Very Good
- Near Mint - Mint - Pristine
Rarity
: Common - Obtainable - Hard to Find - Rare -
Extremely Rare