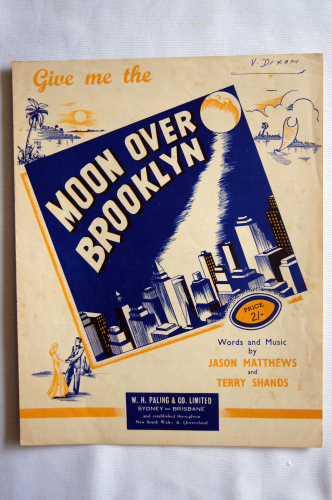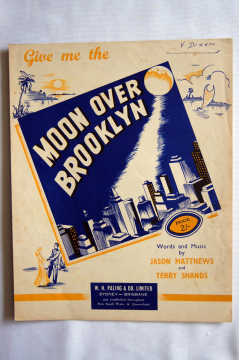 (Give me the) Moon over Brooklyn
Description
Published in the early 1940's and best remembered for Guy Lombardos performance in 1946, Moon Over Brooklyn was written by Jason Matthews and Terry Shands.
The cover is printed in blue and yellow and the centre drawing shows city highrise buildings under the light of the moon. In three corners there are a couple dancing, palm trees and a small boat. A name is written on the top right corner in ink with some minor discolouration the item is in near mint condition.
Published by W. H. Paling and Co Limited Sydney and Brisbane.
Condition
: Damaged - Very Good -
Near Mint
- Mint - Pristine
Rarity
: Common -
Obtainable
- Hard to Find - Rare - Extremely Rare