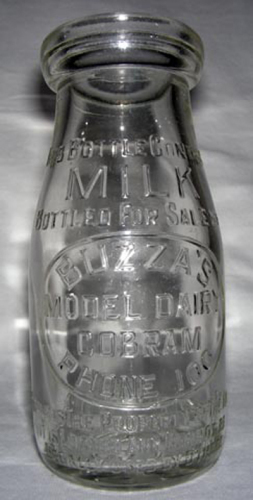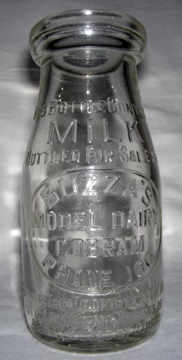 Buzza Cobram Half Pint
Description
Half pint mint bottle from Cobram branded Buzza's Model Dairy, Cobram Phone 100. The bottle is clear glass with the wide wad top seal and in mint condition.
Base mark number 589. A realy well embossed little milk - looks great.
Branding
: Neck: This bottle contains, Milk, bottled for sale by, Front: (in circle) Buzza's, Model Dairy, Cobram, Phone 100
Round Bottom: bottle is the property of the above, it is loaned and cannot be, legally used by others. Imperial Half Pint.
Base: 589, 08?, 0
Physical Attributes
: clear glass, wad top, half pint milk bottle
Condition
: Damaged - Very Good - Near Mint -
Mint
- Pristine
Rarity
: Common - Obtainable -
Hard to Find
- Rare - Extremely Rare