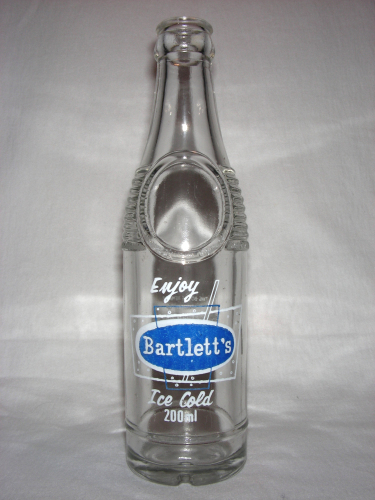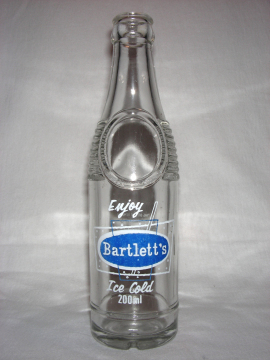 Bartlett Soft Drink Bottle 7 oz
Type
: Aerated Water Crown Seal Ceramic Label
Description
ooops wrong image! The 7 oz is the same as this 200ml, it's just says 7 oz ....

Soft drink bottle from Bartlett of Tatura, 7 oz ceramic label.

Bottle is in very good condition there is some crate wear but no bad damage.
Branding
: Branding may vary slightly on these bottles.
Front: Enjoy, Bartlett's, ice cold, 7 oz.,
Back: this bottle remains the property of Bartlett Cordials Co., Francis Street, Tatura Vic, preservative added, artifcially coloured,
Base: Agm, 12 47, 493
Physical Attributes
: glass, clear, blue & white ceramic label, crown seal, bottle
Condition
: Damaged - Very Good -
Near Mint
- Mint - Pristine
Rarity
: Common -
Obtainable
- Hard to Find - Rare - Extremely Rare