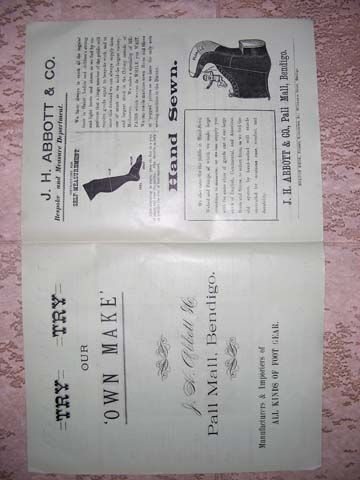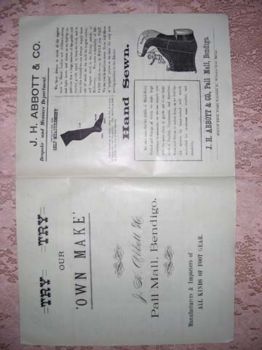 Abbott Shoes Bendigo
Description
Advertising sheet from J. H. Abbott & Co of Bendigo. This is a 4 page leaflet advertising the alterations of their store in Pall Mall for the sale of Boots and Shoes. Leaflet comes in Yellow or Brown.
The leaflet size is 207 x 270 mm slightly less than A4 by 4 pages, the pages advertise Ladies and Gents shoes and boots. With a claimer on the back "They Never Rip".
Click on the image link to see an other page and a larger image.
Branding
: Front: Page 1: J. H. Abbott & Co., (image of shop), Pall Mall Bendigo Market Square
Page 2: Try Try, Our, Own Make, J.H. Abbott & Co., Pall Mall Bendigo, Manufacturers & Importers of, All Kinds of Foot Gear
Page3 : J.H. Abbott & Co., Hand Sawn (ladies boot and Mens boot image)
Page 4: Special Hard Wear Boots, They Never Rip, (image elephant pulling boot)
Physical Attributes
: paper advertising leaflet 4 pages