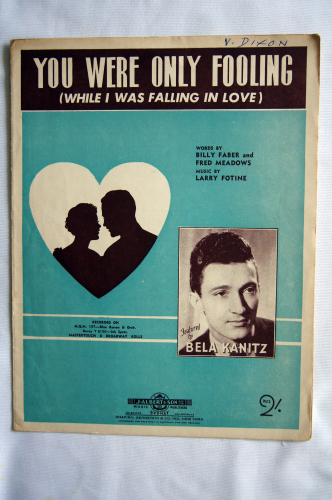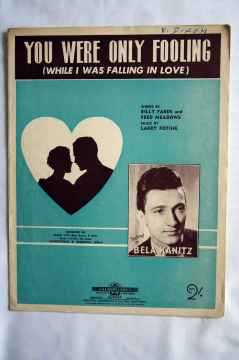 You Were Only Fooling
Description
The sheet music cover for You Were Only Fooling (While I Was Falling In Love) is in near mint condition.
It features a silhouetted couple in a love heart beside the photograph of Jazz Musician Bela Kanitz. Words by Billy Faber and Fred Meadows, music by Larry Fotine.
Printed in brown and light blue ink it does have a name on the top right corner written in ink , no other marks or damage.
Published by Shapiro, Bernstein and Co New York for J. Albert and son Pty Ltd Sydney.
Physical Attributes
: Paper
Condition
: Damaged - Very Good -
Near Mint
- Mint - Pristine
Rarity
: Common - Obtainable -
Hard to Find
- Rare - Extremely Rare